Lots to see from all our district clubs!
Grenada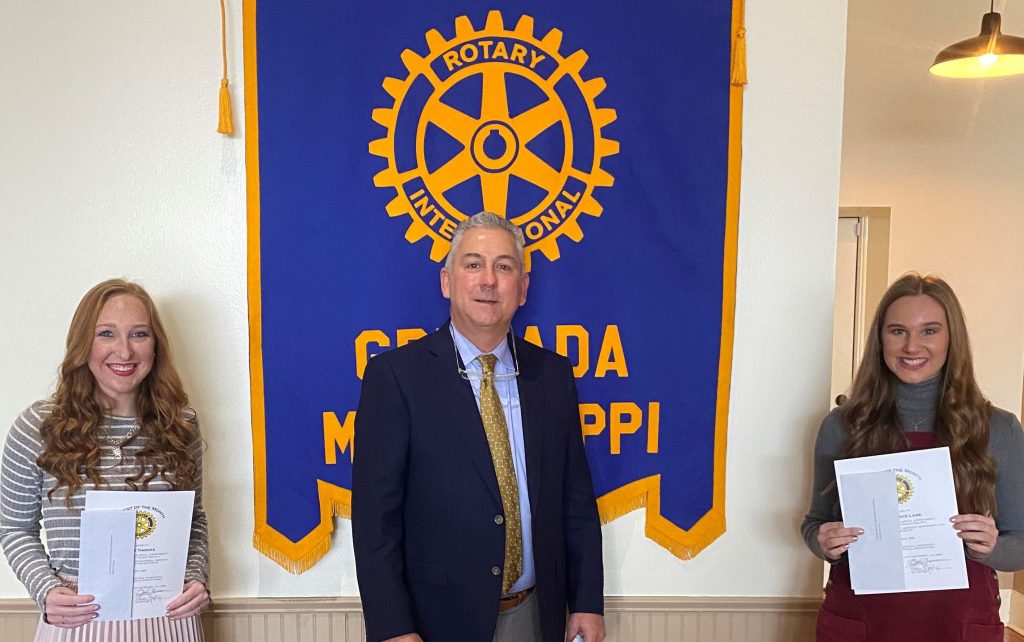 Grenada Rotary Club recently honored Grenada High School senior Brooke Thomas and Kirk Academy senior Anna Grace Lane as their December Students of the Month.  These young leaders were selected by their respective faculties based upon Club-submitted criteria and each received a check for $50! They qualify for the end-of-year award of the Grenada Rotary Club Scholarship!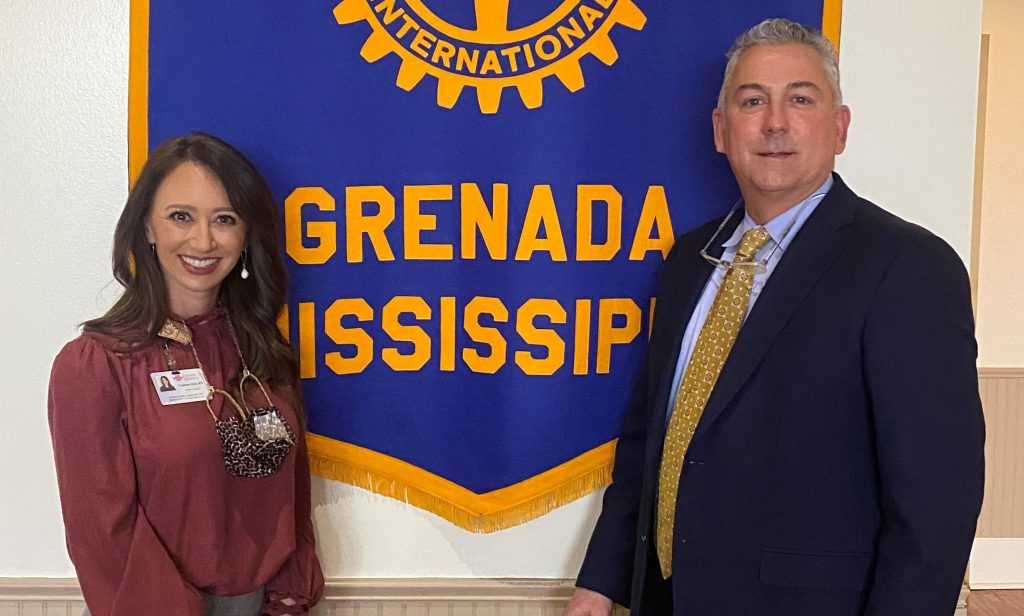 Grenada Rotary Club recently heard from Lauren Able, R.N., Hospice Consultant with Legacy Hospice, about the many services provided by these special caregivers who engage families and their loved ones at a delicate and profoundly emotional time of their lives. Ms. Abel and her co-workers are truly angels on earth
Memphis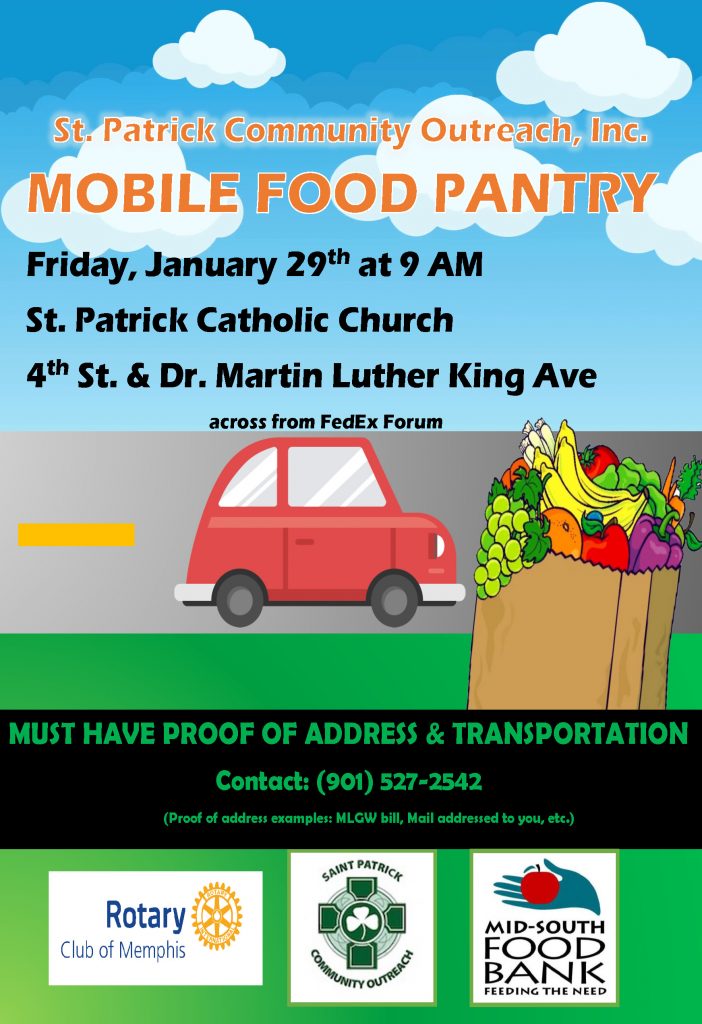 The Rotary Club of Memphis is getting ready for its 6th mobile food pantry since the pandemic hit. The 5th was held right before Christmas, and over 550 families were fed. Food insecurity isn't new, and the pandemic has only made it more far-reaching. The club has found these pantries a rewarding way to hold an in-person, outdoor, socially distanced and masked event while giving back to their neighbors in need
Memphis Midtown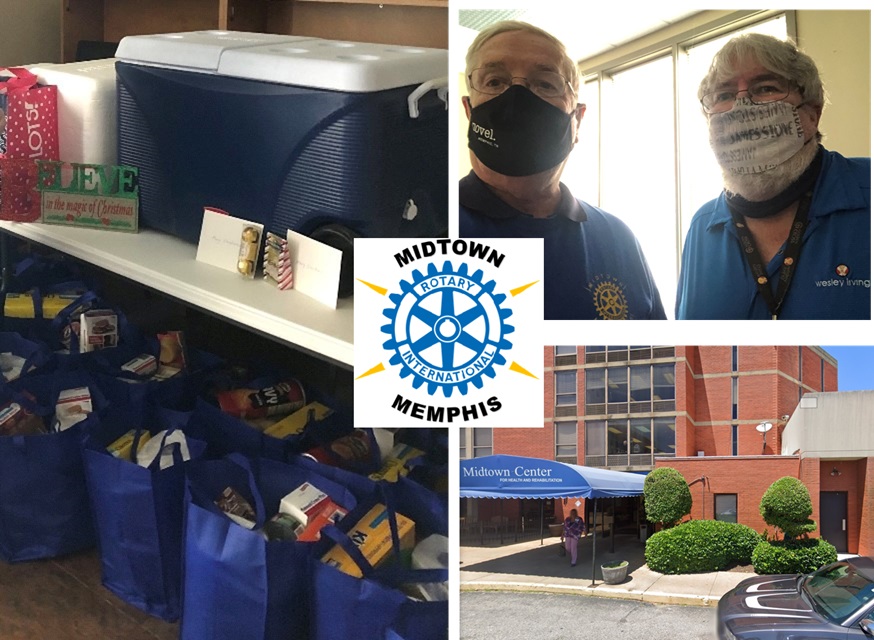 Thanks to our members who participated in preparing cards and gift bags for the residents and staff of St. Peter's Villa in Midtown.
Mike Simpson and his team spearheaded the project.  Of special note is that the nurses, support staff and administrators also got cards. So often they are the unsung heroes, especially during the Covid-19 crisis. See more notes from Mike below the photo.
Some of our members have also been doing other things like 5K runs for charity, food banks, mentoring and more.
Recently, we welcomed a new member into the club: Dr. Kendale White (Assessment Advisor – Memphis Virtual School, Shelby County Schools.)
Germantown
The Rotary Club of Germantown added seven new members in the last two months. One of the members – Phoenix Pope wrote on her Facebook page following about joining Rotary.
Today I became an official member of Germantown Rotary!!!
I will be honest; I didn't really understand the opportunity my Dad was creating for me before he passed. I knew that Rotary was a service-based community organization, and I knew that when I was in high school or home from college, I got to enjoy fancy country club lunches at the meetings! I knew that my Dad was dedicated to the philanthropic initiatives that the club supports, and I also knew the Christmas party was always so much fun! I knew from the day he joined that he had eventually become the President… and I am lucky that he chose me to be his "date" many times while he served in that role. I knew that Germantown Rotary brought my Dad some very dear friends… like Chuck Blake, Vijay Surpuriya and Sandra Hayne. I knew the Germantown Rotary was a good organization!
What I did not know, was that after he passed, Germantown Rotary would be one of my biggest support systems. Rotarians have supported my family and I on a number of occasions. They have provided meals, they offered their time and their help with the Estate Sale, they have spent countless hours on the phone with me coaching me and offering advice and wisdom, and they have extended their prayers in a very difficult time. They have given me reasons to smile on days when I did not feel like smiling, and they have shared many good memories of my Dad that brought both laughter and tears.
Rotary International's motto is Service Above Self, so it's no surprise that the Rotarians in Germantown would model such behavior. The Germantown Rotary Club is comprised of a variety of established professionals, retired business owners, and many well-known community leaders. They meet once a week and base their membership on this: Is it the Truth? Is it fair to all concerned? Will it build goodwill and better friendships? Will it be beneficial for all concerned? I cannot think of any 4 questions that represent my Dad's way of thinking more than those. What a great honor and privilege, to be asked to follow his legacy and join the club. I can only hope to make as big of an impact as he did, and I am excited to give back to our community by getting involved!
Memphis
Here is just a shot of good news and a reminder of what Rotary connections can do.
Several leaders of the Memphis club have been meeting with the Shelby County Schools to ramp up a virtual Rotary Reader program set to start in October. It was through these meetings that we learned of the desperate need for schools supplies – many members donated supplies for that cause. Also part of those discussions was the need for all students to have headsets to hook to the laptops/tablets provided by the schools. It just makes sense that they would be needed when you think about it: multiple kids at home all in virtual school and sometimes parents online as well – all talking and listening at once. Well, Joe Birch, news anchor with the local NBC affiliate WMC-TV5 heard this and took it back to his station, and they launched a "Headsets for Learning" campaign that raised $322,000 in very short order. Carry that on through and recently, after knowing the need and seeing the community outpouring of support, the county commission put $750,000 in their budget to make sure all students have those needed headsets.
Over $1.0 million just because Rotary started trying to figure out how to make Rotary Readers work during a pandemic! The potential for our impact is really limitless when we all start listening to what needs are out there and reimagining ways to help make lasting change.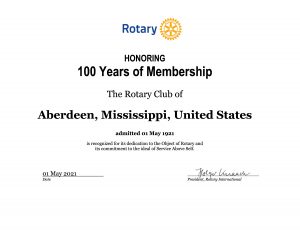 Calhoun City
Together We Book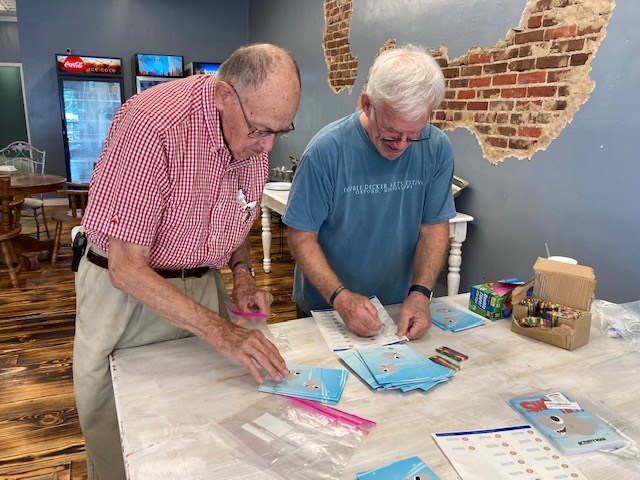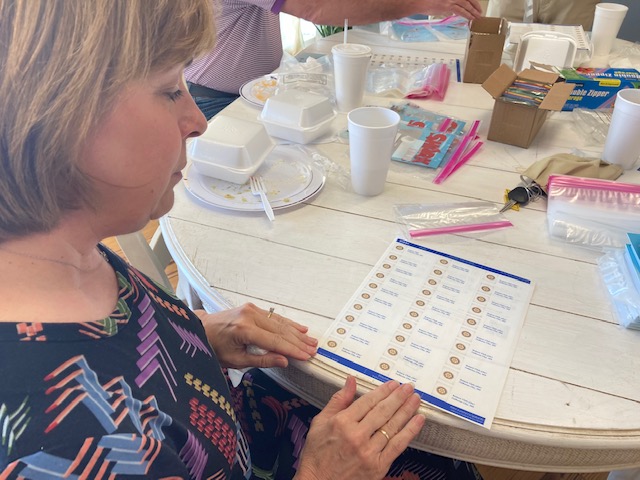 In Calhoun City we believe that when we come together as a community, we can make a difference in people's lives. In the last months, different faith-based organizations and people of good will distributed food every Monday to more than 200 children in all the corners of the community. We, as a Rotary Club, joined this wonderful initiative with a donation of more than 400 coloring books and crayons which were included in each food back.
Certificates of Appreciation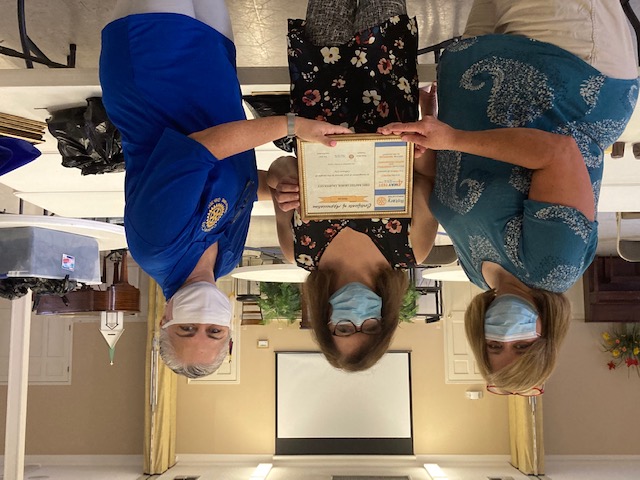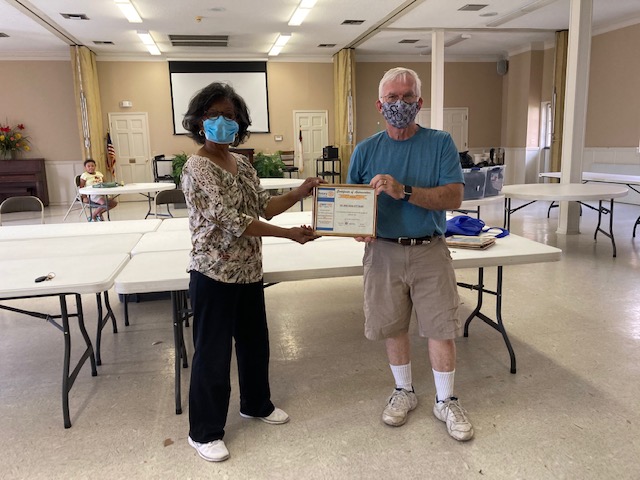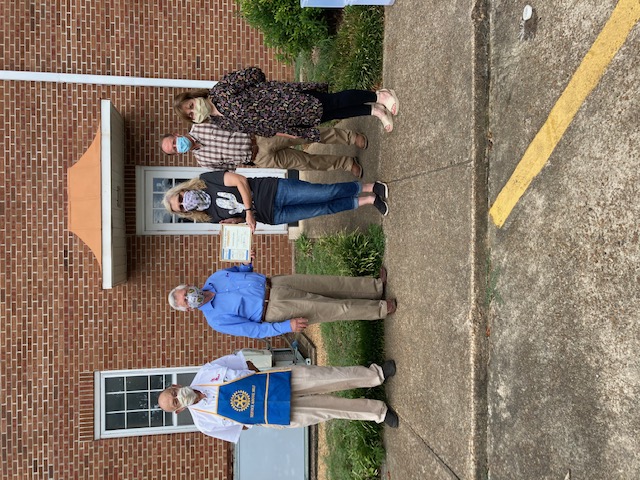 Based on the 4-Ways of the Things we Think, Say or Do, we want to recognize the following individuals and organizations for their service to the people of Calhoun City:
New Life Church
Daniel's Temple Church of God
Shiloh Baptist Church
First Baptist Church, Calhoun City
Ed and Nida Pittman
Betty Holland
Grenada
News from Grenada Rotary Club
Have you ever? These times are nothing short of bizarre-none of us have ever seen anything like it, and the future is as unpredictable as the coronavirus is. Hardly a club is meeting in person, and every organization in our country has suffered from the loss of personal connectivity. Rotary has taken it on the nose just like everyone else, but we are adapting, modifying and overcoming! Grenada (like many of you) has employed the virtual meeting platform, and has enjoyed joining other clubs who are securing some spectacular programs from week to week. This effort is critical. We have to stay connected to survive. It compels us to evaluate how important Rotary is to us, historically and in the future. What we do now echoes into our future, so we should be diligent in pursuing those values that make Rotary what it is. Lord knows we have plenty of negative things to focus on; why not focus on positive service?!
Hurricane Laura Relief
We have a good history at Grenada Rotary Club of helping those who are victims of terrible hurricanes. In 2017 we produced a point-to-point delivery of cleaning and personal hygiene items to Houston, Texas, in the aftermath of Hurricane Harvey. We sent a tractor trailer there, involving our Interact student and all of our community. With the recent devastation of Hurricane Laura we have reached out to our sister district 6200 with a cash donation of $2,500.00 to their foundation for hurricane relief. District 6200 is an active district which generously donated to our Zoe Children's Tribe Water Well project-we were thrilled to return the favor. We encourage everyone who reads this newsletter to reach out to and help these folk who will be months and months recovering from the damage they have suffered.
Garden News
Our garden got planted late this year. We can't even blame the 'Rona on this one-a wet, cool spring kept us out of the garden until the very last minute. We planted it, though, with butterbeans, okra, squash, corn, and green beans! It's coming along fine, although we are having to water it regularly since it's maturing during the hot, dry summer months.
While we watch our garden grow we have completed our garden fence and are finished with the garden shed! We secured a metal roof and sides in Rotary colors, so we'll be gardening in style as the summer comes to a close! These activities clearly benefit our partner, the Grenada Soup Kitchen, but our members had a chance to get out and get together during a time of relative isolation, and the effect was immediate, beneficial and enjoyed by all! We are all members of Rotary to selfishly feed our need for fulfillment through service. This garden project has consistently provided us with that fulfillment and needy neighbors with farm-to-table dining!
Sweet Corn Bonanza!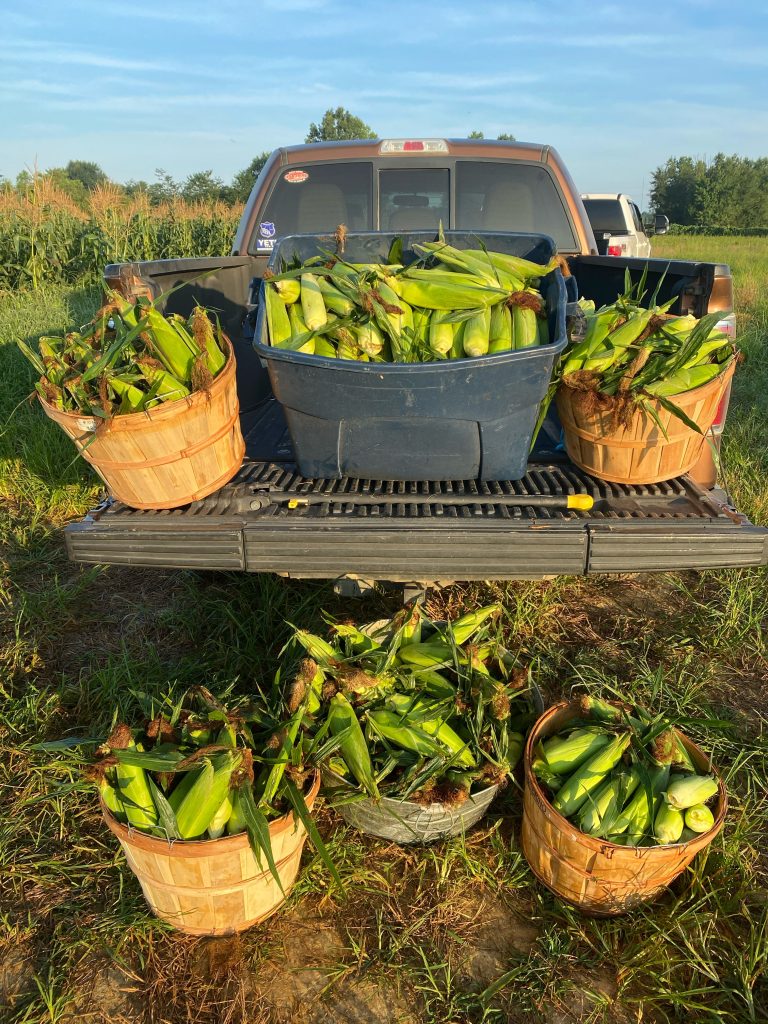 Some of our generous Grenada farmers got the jump on planting sweet corn and allowed our club to pull some ears…maybe about 900 of them! Grenada Rotary entered a 5 acre sweet corn field near Duck Hill, Mississippi, at daylight a couple of weeks ago and emerged with a dearth of sweet corn! We immediately donated it to the Grenada Soup Kitchen, the residents of All Saints House (a low-income extended care facility here in Grenada) and other needy families in our area! It was hard work, fun, and beneficial to all who participated and received!
Donating Lunches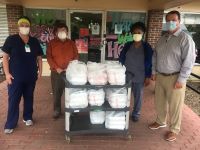 We have been unable to meet in person since March. We have our lunches catered by a wonderful local restaurant-Orleans Bistro-owned and staffed by people who love Rotary! As you know, the restaurant industry is one of the hardest hit businesses as a result of the pandemic, so we decided to help Orleans out by continuing to purchase our lunches even though we weren't meeting. Orleans packaged the lunches up in to-go plates and we delivered/donated them to area folks who were working what has become known as "the front line." We have donated lunches every week to the COVID testing team at our local hospital (University of Mississippi Medical Center-Grenada), the staffs at local nursing homes and extended care facilities (Grenada Living Center, Providence Extended Care Facility, All Saints House), and to first-responders at the Grenada County Sheriff's Office, Grenada Police Department and local ambulance services. We even delivered lunches to the staffs/employees at Spain's Grocery Store and The Grocery Basket! Through this effort we have kept Orleans busy, met a need of people who are on the front line helping our community cope with this crisis, and kept ourselves engaged as a club in service!
Nibbles for Nurses!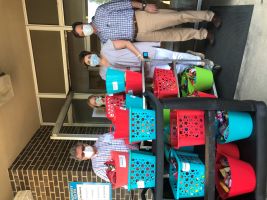 The pandemic has put an enormous strain on our local healthcare community. Our club, led by Rotarian Ashley Lane, put together some 43 large baskets of snacks which were delivered to the various departments at the University of Mississippi Medical Center. Our local Sprint Mart, through the generosity of Sammy Carollo, sold these snacks to us at a very deep discount. Ashley knew that the gift shop where these workers would occasionally get their snacks had been closed since mid-March, and that these workers were necessarily restricted to their work areas throughout the day. The snacks would help boost their spirits and let them know that they had not been forgotten! They were very appreciative and we feel like we met a very real and important need!
Groceries for Grannys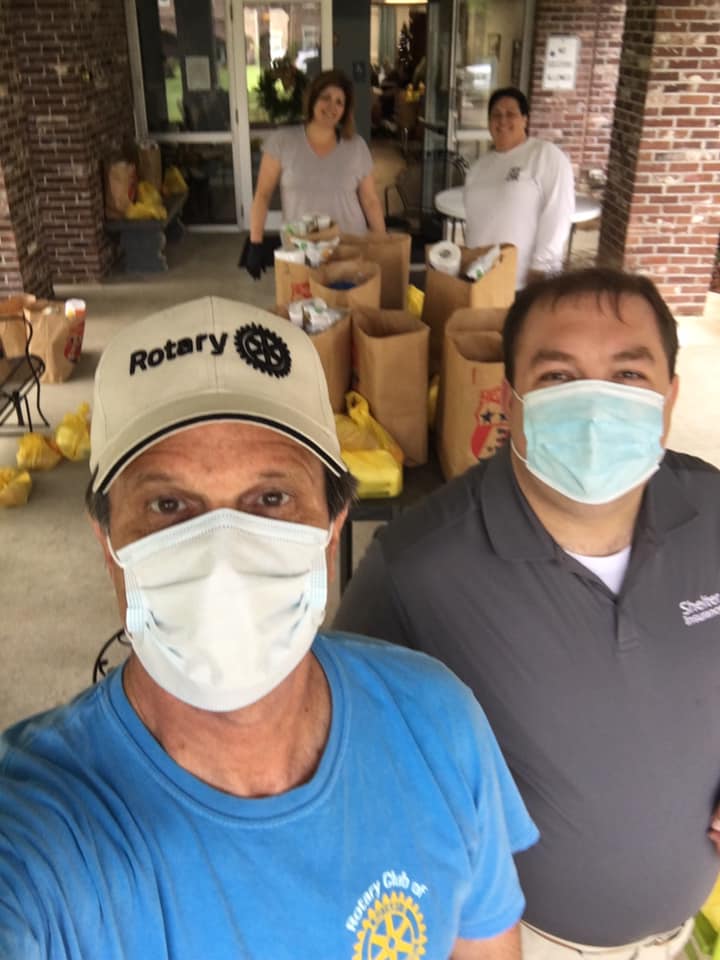 Do you not love the constant alliterations I'm slamming you with?! Another Ashley Lane idea, she knew that the pandemic had severely limited the ability of the residents of All Saints House to get out and re-supply themselves with groceries. We went to Spain's Supermarket, a local grocery store, and purchased enough groceries to fill four bags EACH for all 42 residents of All Saints House! We delivered these groceries and cannot tell you how happy these fine people were!
Volunteering for the Food Pantry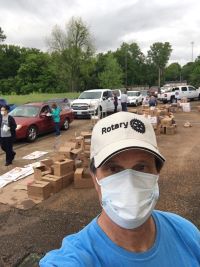 Grenada Rotary Club showed up to help our area Food Pantry distribute groceries to needy families very shortly after the coronavirus shutdowns began. Grocery stores had bare shelves and no one could get out to the stores, so the need was overwhelming-hundreds of cars lined up with near-desperate folks trying to feed their families. We piled in, masked and gloved up, and commenced to sweatin'! We felt like we did some good that day.
Zoe Children's Tribe Water Well Project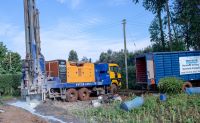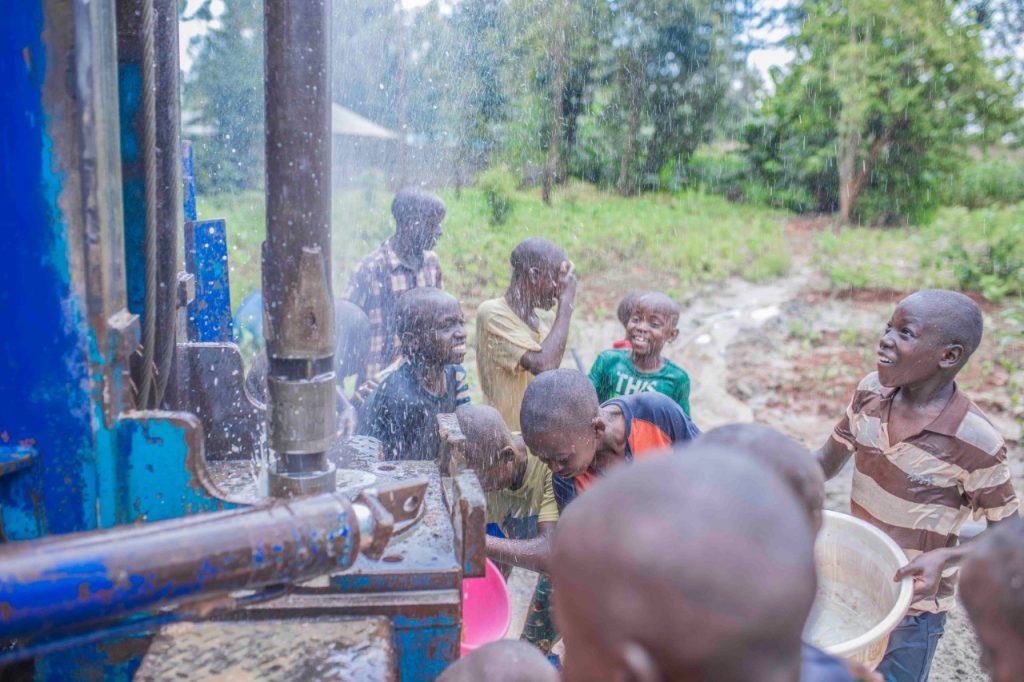 Our club has been working on this project for nearly two years. It began as the vision of a local young missionary who was trying to help orphaned and abandoned children in Kitale, Kenya. He has surrounded himself with others who are genuinely concerned about the welfare of these children, has established a foundation, and built two homes, a school, purchased 5 acres for the site, and is in the process of building a clinic to meet their medical needs. He spoke to our club at the beginning of this project, telling us of the magical experience of watching these young children see electricity and lights work for the first time in their young lives! They still lacked a clean water source, having to trek down a dusty road nearly a mile with wheelbarrows and 5-gallon buckets to scoop up muddy water which had to be boiled before they could use it. He told our club he wanted to dig a clean water well-many of their parents had died from water-borne diseases. Grenada Rotary Club decided to help.
We began with a massive raffle which netted our club $15,000.00. We then attempted to secure a Rotary Foundation Global Grant. While this grant has never come through, Grenada Rotary directly gifted the $15,000 to the Zoe Children's Tribe Foundation this month. The Foundation had a donor who matched the donation dollar-for-dollar, resulting in a yield of $30,000! We are so excited to report that a 300-foot deep well has been dug and the children of Zoe have safe, clean and available water! Any local club can have a global impact! This is a milestone accomplishment for us, and we are grateful for the opportunity to help these children!
New Officers
Like all other clubs in District 6800, Grenada Rotary began the year with a new slate of officers seasoned in Rotary values and enthusiastic about meeting the challenges of this strange and difficult year! Our new officers are:
President Brad Branscome
President-Elect Jenny Herron
Secretary Rodney Murphy
Treasurer Frank Bradford
Our officers have hit the ground running and we're as active as we've ever been, even though we are not meeting in person! All these projects have been publicized through our local newspaper, Facebook and Instagram, so the public response to Rotary has been overwhelming and favorable! Great things are ahead this year for Grenada Rotary Club, and can be for your club-any one of you can easily find a worthy project in this target-rich environment to 'do good in the world' in the name of Rotary. It's what Rotary is all about, folks. I know yall are all doing similar things and hope to read about them in this newsletter!
Service Above Self!