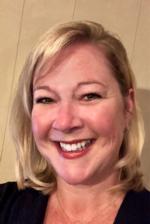 District Governor Elect
Jenny Jones
Jenny H. Jones is a third-generation Girl Scout from Ripley, MS and a recipient of the Girl Scout Gold Award, the highest award that a Girl Scout can achieve. She earned her B.S. Degree in Communications with an emphasis in Public Relations from Mississippi College in Clinton, MS.
Jenny began her professional Girl Scout career as a Field Executive and quickly added responsibilities for outreach by developing and directing the In-School Girl Scout Program. In 1998, she became the first Camp Director at Camp Tik-A-Witha to have attended the camp as a girl and was camp director for 7 years. She has managed property development, outdoor program, human resources, adult development, special events and is currently the Chief Community Engagement Officer for Girl Scouts Heart of the South. Jenny has been employed with the local Girl Scout Council for 26 years.
She has served on the Board of Directors for the American Camp Association, the Public Relations Association of Mississippi (past-president for Northeast MS Chapter), The Rotary Club of Tupelo (President in 2018-19) and the Link Centre. She was honored as an Influential Woman by Mud and Magnolias Magazine in 2018.
Jenny and her husband, David, live in Tupelo, MS and have one son, Tanner who is 13 years old and is a Boy Scout.