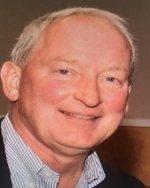 District Governor Nominee
Dave Rhylander

Dave retired from Monsanto in July 2016 after nearly 40 years with a company that helped changed agriculture. During his career he held leadership positions in sales but is most known for his leadership in marketing due to his creativity, innovation and listening to the voice of the customer to find better solutions.
In 2017 Dave joined Collierville Rotary as a way to give back and serve people but also as a way to connect to more great individuals. Dave is the past president of Collierville Rotary and was named District 6800 Rotarian of the year in 2019/2020. In addition to being an assistant governor, he is also the district membership chair.
Dave is also involved with other organizations:
– chairman of the Collierville Park Advisory Board
– chairman of Partners In Education Board
– is a board member of Collierville Education Foundation.
– is a board member of Rotary FYI
Dave grew up in Nebraska . He and his wife Toni have lived in Collierville for 22 years and have 3 sons.